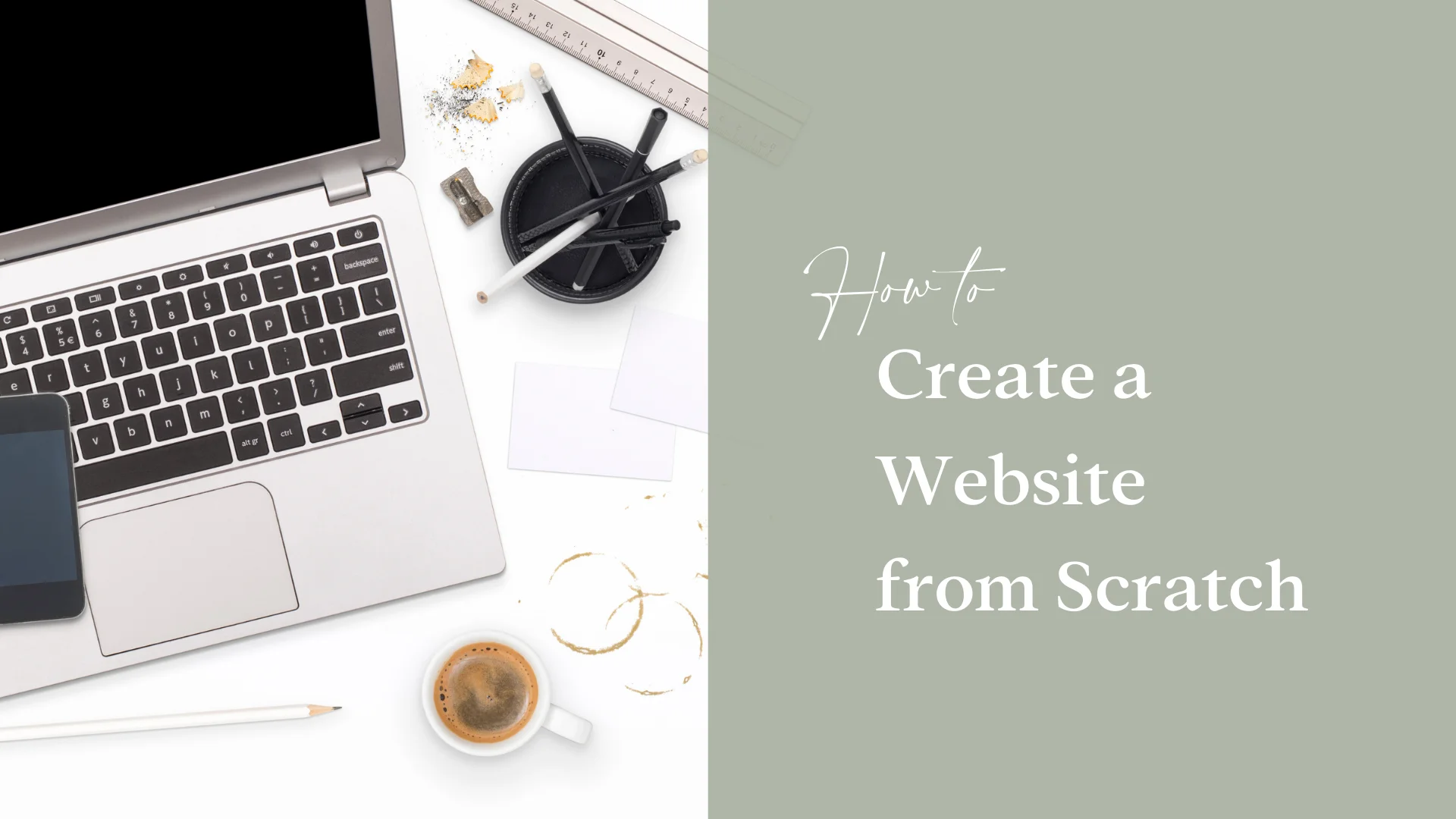 How to create a website from scratch

Planning to start a business and need a website, but where to start?
This is a common and valid question for any starting business owner or entrepreneur, and although getting to the point where you can actually start to design your website may seem a little overwhelming at first, you can break it down into these four main steps that I'm going to go through more in detail in this blog post:


#1 Decide your business name
#2 Register a domain name
#3 Choose a website builder
#4 Set up website hosting
#1 Decide your business name
Before creating your website you must have a name for your business and you ideally want it to be short, memorable, and easy to say. As you will use your business name as your website address, it's important that it's also easy to write.

You should avoid any special characters or too clever names that you need to keep explaining the spelling for and you should also choose a name that won't limit your business' future growth too much.

Once you've found a name that you're happy with, it's time to make sure that this name is available. Not just as a website domain (more about that soon), but also as a business name as you can't use a name someone else has already trademarked or registered as a company.

A good idea is to also check if the name is still available on the social media platforms you want to use as ideally, you want to use the same name everywhere. It may take some time to find a name that ticks all the boxes, so don't get discouraged if the first or even the tenth one isn't available, it's totally normal.


#2 Register a domain



What is a domain name?
Once you have your name decided, it's time to register a domain name for your business; the website address people use to get to your website. You could consider your website as the house where your business lives, and your domain name as the address to find it, and ideally, you want your domain name to be in the format yourbusinessname.com.


Where to get one?



You buy your domain name from your chosen domain registrar; an authorised business that has access to the overall registry managed by a global organisation. As the registrars don't own the domain names it doesn't really matter from which domain name registrar you choose to buy your domain name from -- they all have access to the same options. You may just prefer the price, terms, or purchase process of one of them more than the others.

Which domain registrar to choose?
The two biggest domain registrars are GoDaddy and Google, and I personally prefer the latter just because I found GoDaddy a little frustrating with the constant upsells, add ons, and hidden costs. Please also note that at this point you don't necessarily need to pay for a website host yet if that service is being offered too, as depending on where you decide to actually build your website, this service might already be included in the price.

Things to take into consideration when buying a domain name
Even if you choose to outsource the building of your website to someone else I warmly recommend you to always buy the domain name yourself. You want to be in charge of renewing it and not leave it in someone else's hands as I've heard so many horror stories where the website developer forgot to renew the license for the address and it became available for sale and was sold to someone else.
Even if you're not ready to build your website quite yet, it's a good idea to buy the domain name as soon as you have found a business name you're happy with and that's available as there's a good chance someone else might otherwise buy it in the meantime. As the yearly cost is very minimal, even if you don't end up using it for a whole year, it's not a huge loss.



.Com or Something Else



When you're buying your domain name you can also choose the ending of your website, whether it's .com or something else. As .com is the most popular and most known option so I would always go with that if you can. A country-specific ending such as .au or .co.uk makes sense if your business is focusing only on a local area.

You may also discover that although the .com ending for your preferred domain name isn't available, it's still not an existing site. It could mean two things; either it's still under development or someone has bought the name and just tries to sell it at a higher price. Yes, unfortunately, there are people like that and I would avoid supporting them if possible, so rather choose a different name or different ending if you can.
#3 Choose a website builder



Having the domain name doesn't yet mean that you now have a website – you have to actually build it first. This is where website builders come into the picture.

Don't get confused if you see the same companies that sell you domain names offering you also website building options as they often have several services available. As there are more and more website builders available nowadays and they all offer slightly different options and user experiences, the first thing you want to consider is what is it exactly that you need from your website.
Do you need a blog feature, online store (eCommerce), appointment booking system, or perhaps something else? And even if you don't need it right now, is it likely that you will in the future?
You may also want to consider your skill level; are you quite techy and happy to piece it together using different plugins or building features (wordpress.org or webflow.com) or would you prefer an easier drag and drop user interface (wix.com or squarespace.com).
Many of the most popular website builders offer templates to use so that you don't need to start completely from scratch with the design which is a huge help. All the basic features are usually also included, but you may want to do some comparison as they may vary quite a lot from platform to platform -- also in price. Thanks to our good friend internet, you can find tons of comparison charts if you just do a quick google search so I'd start from there.



#4 Set up website hosting



Website hosting may or may not be part of the package of your website builder. If it is part of the package, it's usually offered through their chosen host so you don't necessarily have the option of going with just whoever you want. A website host basically allocates space on a web server for your website to store its files such as your images, videos, and text you might have on it and make it all available for viewing online. So you could consider a website host as the landlord of your house (website).
You want to use a robust enough website host so that your website works smoothly, especially when it's for business use. If it's not already part of your website builder you may want to consider for example Bluehost or Hostgator. The cheapest or free option isn't often the smartest choice as you tend to get what you pay for, and you should also beware of pricing tricks and pay attention to any increases after a certain amount of time.



I've built my website on Kajabi as it's a platform that specialises in online courses and offers an all-in-one solution that worked best for me. If you have any more detailed questions about Kajabi, I'm always happy to help so just drop me an email at hello@bebosscreative.com