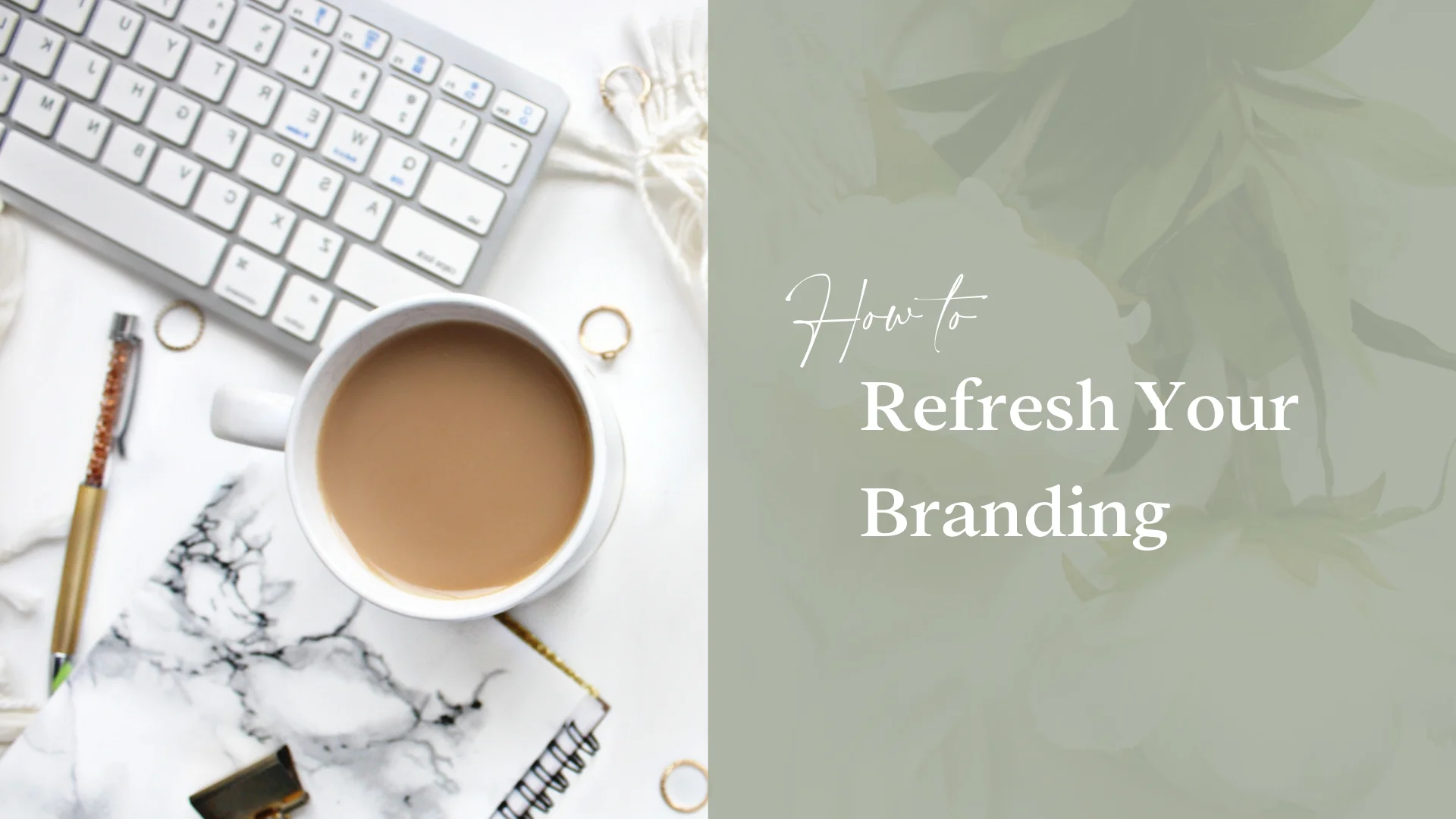 How to refresh your branding?
It's a good idea to review your branding from time to time, as when your business grows and your audience and their habits change, your old branding won't necessarily work as well as it used to.
But where should you start when you realise that your existing branding doesn't fit your business anymore and it starts to feel outdated? Here are the most common questions and answers related to refreshing your branding the right way.



What is a brand refresh?
A brand refresh is about fine-tuning and updating your company's existing messaging and visuals, both to avoid becoming outdated and to make sure your branding still reflects your company and your customers. The idea of a brand refresh is to improve the visual look and messaging, not completely change your company. It could therefore mean a tweak in your colour palette, a new style of illustrations, or for example an updated logo design or branded collateral.



What is a rebrand?
Rebranding then again isn't the same thing as a brand refresh. Rebranding is more of a fundamental change within your business such as changing your product offering or restructuring your business completely and requires a more complete makeover both with your visual look and your actual brand strategy too. Rebranding is more of an overall teardown and rebuilding from scratch, rather than just little tweaks here and there.




Why is a brand refresh important?
The two main reasons are trust and credibility. If you look back even just a year or two, it's likely that your business has grown and your audience has changed too and the existing branding starts to feel outdated. Your customers should feel like your brand reflects them, and if your brand starts to fall behind its time, that bond can weaken. Retaining your existing customers whilst attracting new ones is obviously only beneficial to your business.



What does a brand refresh look like?
It could be just a small update on your logo or a more substantial change where you also update and fine-tune your colours, fonts, and messaging. The business stays still the same, it just gets a little facelift so to speak. Below you can see examples of how Airbnb and Netflix logos have evolved and been modernised over the past years.
When should you refresh your branding?
There's no one right answer to this, but as a rule of thumb consider a bigger brand overhaul every 5-10 years and smaller refreshes can be done more frequently. When your existing branding no longer reflects your brand purpose, it doesn't resonate with your customers as well as it used to, seems irrelevant or you outgrow it -- it's time for an update.



How should you get started with your brand refresh?
First, you want to get some facts on the table and analyse your results. Take a closer look and see if you are getting the leads you want from your advertising, is your message still relevant, are your customers reacting well to it and how does your branding compare to your competitors, and if it's starting to look tired.
After that decide what needs changing and consider your ideas against your brand strategy to make sure your updates still align with your brand personality, voice, vision, and the audience you want to serve.



Can I refresh my branding too often?
The idea of your branding is to be memorable and recognisable, so if you keep changing it monthly you will end up just confusing your customers. Confusion increases lack of trust and that is not how you want your brand to be perceived. When you do go the route of refreshing your branding, do it properly and with thought so that you don't have to keep readjusting it over and over again in a short period of time.



Should I let my audience know if I refresh my branding?
If it's just a minor change there's no need for it, but if the change is noticeable it's good practice to keep your audience informed especially if they've followed you already for a while and might get confused otherwise. You can build momentum around it by announcing it as exciting news and it can be a great way to keep in touch and promote your business too.



There's no specific number of rebrands or brand refreshes you should go through but it's important to keep reviewing your branding regularly to make sure that you are positioned in the best way. A rebrand doesn't have to mean transforming into a totally new business but often refresh can be equally, if not more, effective way to make a needed change. Just keep in mind that if your brand starts to fall behind its time, then refreshing your branding could be an effective solution to solving it.